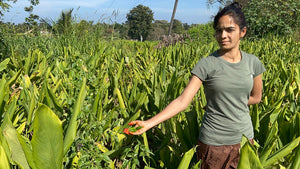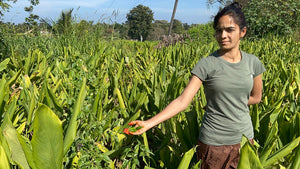 Full Moon Cultured A2 Milk Ghee
MADE FROM DESI KANGEYAM COW A2 ORGANIC MILK on auspicious day of FULL MOON(Poornima) using bilona method.

100% RAW, NATURAL, UNPROCESSED, UNHEATED Wild forest raw honey sourced from the distant forests of the western and eastern ghats.
WE ARE CLASSICAL FARMERS
Though people in the world are engaged in so many avocations, since they all depend on the farmers, Organic farming is the prime and important vocation in the world.
EAT ORGANIC.SAVE YOUR BODY AND MIND.
SPREADING HEALTH AND WELLNESS THROUGH FOOD.
As a kid, I learned everything I needed to know through organic farming.
WATCH OUR JOURNEY
WHAT'S FLYING OFF THE SHELVES
FROM THE JUNGLES OF INDIA.
WILD FOREST RAW HONEY
100% RAW, NATURAL, UNPROCESSED,UNHEATED HONEY Sourced from wild flowers blooming in the dense forests of western and eastern ghats.
READ MORE
Our Handiwork
Organically handcrafted with love and care for you.
What is Svastya Organic Full Moon Cultured Desi Kangeyam Cow A2 Milk Ghee?
SOF Full Moon Cultured A2 milk Organic Desi Ghee is handcrafted on the auspicious day of Pournami (full Moon) from Desi Kangeyam cow.
CORPORATE GIFTING
Strengthen your relationships with employees, colleagues and clients with Svastya Organic Farms Corporate Gifting Concierge. From healthy organic gifting to customized gift boxes, we're a one-stop solution for corporate gifting. Drop in a query and we will help deliver these seamlessly.
Health And Wellness Consultation
Speak with our in-house Organic healthcare and wellness expert
01
Fill out the Consultation form
02
We will schedule the appointment and send you the zoom link.
03
Let's discuss your queries together.
Fill the form now
THE ART OF MAKING YELLOW GOLD
Svastya Organic farms Organic Wild Turmeric is a form of turmeric, a spice category, cultivated in the Kongu region of Tamil Nadu, Karnataka India.
Sudha Murthy

★★★★★

CHAIRPERSON OF INFOSYS
David Willey

★★★★★

CRICKETER,ENGLAND.
Bhanumathi Narasimhan

★★★★★

CHAIRPERSON ,THE ART OF LIVING.
Lakshmy Ramakrishnan

★★★★★

ACTRESS,INDIA.
Thamizhachi Thangapandian

★★★★★

MEMBER OF PARLIMENT, INDIA.
Certifications